SMALL BUDGET, BIG STYLE OPTIONS!
The absolute stop for all DIYers and for all those clients that want exceptional quality products at the best prices in the event rentals market in Orlando and Central Florida. If you are the type of client that loves to decorate and prefer to simply do it yourself or with the help of family and friends, look no further. Hey! We understand you. We love for you to save too. Likewise if you are an event planner looking to partner with a super relaxed fun vendor, we hear you and we will make everything in our power to help you have a successful event.
If you are looking for great party rental chairs, chair covers, tables, table linens, china, charger plates, glassware, flatware, pipe and drape, backdrops, hedge walls, pedestals, accent decor, accessories, kids tables, little chairs, tablecloths, furniture, custom stationary, balloons and party supplies for birthdays, baby showers, quinceñera, sweet 16, weddings, social and corporate events look no further. For the most unique, eclectic & up and coming styles at every price point visit our stunning showroom or the next best thing, shopping right here at DreammakersParty.
Fun and Functional. Inspired Space. Style Defined.
Come visit our showroom and 30, 000 sq. ft warehouse facility located at 11505 Satellite Blvd. Orlando, FL 32837. Our friendly staff will be ready to assist you in all your event needs.
Add Some Flair. Inspiring Details. Timeless Designs.
Boutique style wedding, party & event rentals, themed stationary & special occasion gifts in Orlando, FL. Stylish furniture and accents that don't break the bank. Celebrating everyday life with you!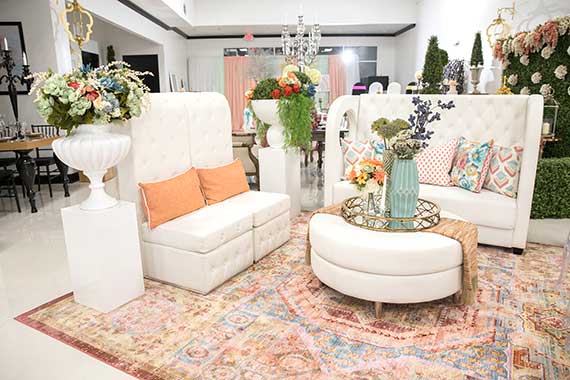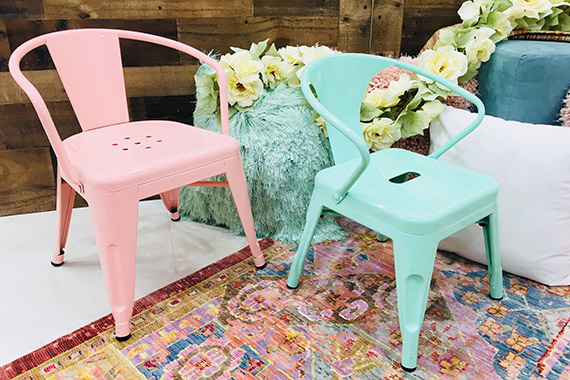 WELCOME! WE'RE LOOKING FORWARD TO MEET YOU.
Send us an email and book your appointment for a showroom visit and to meet with one of our design experts.
reasons to love
01. DESIGN, IDEAS & PRODUCTS
3,000 sq. ft of showroom playground with a 30,000 sq. ft of warehouse facility.
02. ATTENTION TO DETAIL
From initial contact to the day of your event it's how we ensure that we surpass your expectations.
03. Priced for Real Life
The products you like at the prices you love. 
We cater to anyone's needs. Your best event can also fit your budget.
04. COMMITTED TO QUALITY
For you and your event we hold ourselves to the highest standards.
05. RISK FREE IN EVERY WAY
We're guaranteeing exceptional quality and service.
06. HASSLE-FREE DELIVERY
By removing the stress of at-event site delivery, you're free to relax and enjoy your celebration.
Rave reviews
I wanted to say THANK YOU for an absolutely great service. It was fantastic and memorable from start to finish. Your attention to detail is impeccable and your thoughtfulness distinctive.

DreamMakers Events & Party Rentals is the absolute best! They are so courteous and professional and handle everything I throw at them with ease. Awesome people!

Totally brilliant and so helpful. I would most definitely recommend DreamMakers Events & Party Rentals. Your showroom and products are simply amazing! A hidden jewel.

I wanted to send a note of thanks to you and your staff for the excellent rental and set-up service you provided us. I look forward to future business and will recommend you folks to everyone I know.

I wanted to follow up to let you know that my event was a HUGE SUCCESS!! The delivery staff was so nice and very helpful! You made everything so easy and it all came together very nicely! I look forward to working with you on my next event!

Best rental company I have ever worked with! I had to plan a last minute wedding and time was definitely a big deal for everyone. I am so happy I was referred to DreamMakers Events & Party Rentals. Their staff was quick providing suggestions and came up with great solutions for my event. I would suggest them to anyone!

Super grateful to Sheyla for helping me in selecting some items for my event. I shopped around and DreamMakers' prices are the BEST and the quality of their products EXCELLENT. The process was very easy and Sheyla always asked questions to make sure we were on the same page at all times. On the day of the event the items were delivered and picked up on the time agreed. I'm very satisfied with their services and would recommend DreamMakers Party Rentals to anyone looking to have an elegant yet affordable event. Thank you Sheyla!

Thank you so much for your super quick responses and communication. We've been so happy working with you guys!